Captivating Homes with Originality and Wonder!
Welcome to Ozscape Designs, where we believe in infusing the mainstream market with original designer decor and helping you turn your house into a home filled with joy. We are committed to delivering exceptional design and service to our valued customers. Plus, we offer free shipping within the USA to make your shopping experience even more convenient.
Ozscape Designs began its journey as a tourist brand during the 2001 Olympic Games in Australia. Founded by Lesley Edgar, an award-winning textile designer and mother of two, the brand became known for its adorable koala and kangaroo icons. Over a period of twenty years we have grown into the home decor brand we are today.
With a love of color and texture and all things joyful we aim to infuse some warmth and happiness into each and every household with our accent home decor pieces. With the joy of children in mind we offer a diverse range for the whole family to enjoy. Ozscape Designs is a family business focused on good quality, accessible designer home décor for everyday homes.
manufacturing & sustainability
We design in house and all of our custom designs are exclusive to Ozscape Designs.
We work with an international team of hand picked manufacturing partners to ensure the highest quality standards and prompt delivery directly to your doorstep. Direct shipment allows us to provide convenience, speed and efficiency to our customers.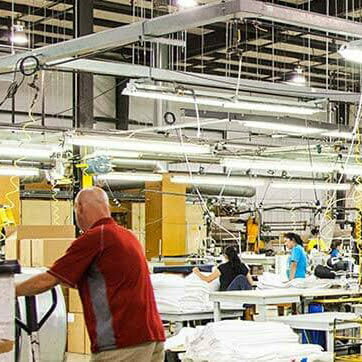 bringing joy and the wow factor into every home!
Our mission is simple: To help you to turn your house into your home. creating joy-inspiring spaces that embrace the magic of the new and different. We offer original designs that will bring your interior to life and a smile to your face.
Quality that endures
We are deeply committed to providing you with not just beautiful, but also high-quality products that stand the test of time.
Sustainability for a Greener World:
Our printing process uses non-toxic inks and no water is needed or wasted. Our custom made to order methodology, reduces waste from overstocking and helps to make the world a little greener.
Affordable Dreams, Priceless Joy:
We believe that everyone should have access to beautiful and joy-inspiring home decor. Explore our range of products and create a space that truly reflects your unique style and personality.
Love, love, love it! Really cute. Good quality.
I was so pleased with my purchases. My grandkids loved the design and it was perfect for a shared bathroom. The quality and the richness of the colors are stunning. Thank you!
It's Perfect for my grandkids bathroom! Adorable and cute. Thank you!
Really nice and soft quality towels! Better than I dared to hope! Highly recommend!
Love this shower curtain, it is reasonably priced, fast to ship. Very cute and quality made item
Super high quality and very fast shipping!
Looked just like the picture and was even softer and more absorbent than I'd expected!
I absolutely love this item!
These rugs are so beautiful and great in the bathroom. Love the colors and the material! Thanks!
Absolutely loveee how it transformed my daughters bathroom. Worth the price! Pictures don't do it justice. My daughter was so excited when she seen her finished bathroom. Highly recommend!
Beautiful addition to my guest bathroom!
OMG this shower curtain is gorgeous! I am so in love with it - the quality of the fabric, the vibrancy of the colors, the beautiful design. Five stars ALL THE WAY! I'm so so happy with this purchase. Best interior design decision I've made in a long time. Perfection. Thank you!!
The Shower curtain was of exceptional high quality. This included both the material and quality of the beautiful print. I also purchased a bath mat that was of equal high quality. I was extremely happy with both purchases and would highly recommend this company. I also wouldn't hesitate to purchase from them again. The business was fantastic to deal with and answered all my question in record speed.
Lovely towels, Fast shipping and just as expected!
Love! Some things are well worth the price.
Love this bath mat! It's soft and cushy, and the print is really vibrant!
Copyright Ozscape Designs
All of our custom made designs are unique and individually designed by us. These designs are subject to our copyright and can only be purched from an Ozscape Designs Shop. By purchasing from us you will be showing your support for small businesses and will own a truly one of a kind product. Ozscape It!